Liveaboard Philippines: A must for every diver
The variety of beautiful dive sites is unique in the Philippines. With our dive safaris you can dive a large number of different dive sites during your stay. Due to its geographical location, the Philippines has the most beautiful coral gardens in the world.
We are currently offering these two dive safaris (Philippines Liveaboard)
We are currently running two dive safaris. The Visaya Safari is in the dive areas around Bohol, Cabilao, Cebu, Negros and the small offshore islands.
The safari to Leyte, for example to dive or snorkel with the whale sharks, for South Leyte. Almost all diving areas are in the area of the large Sogod Bay.
LIVEABOARD VISAYAS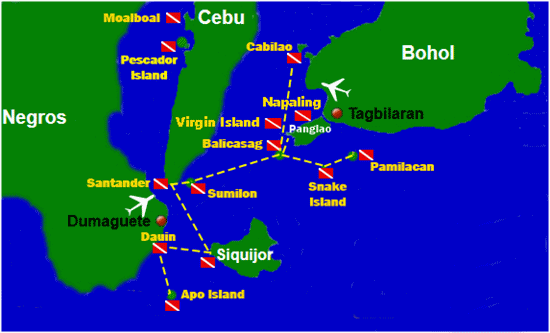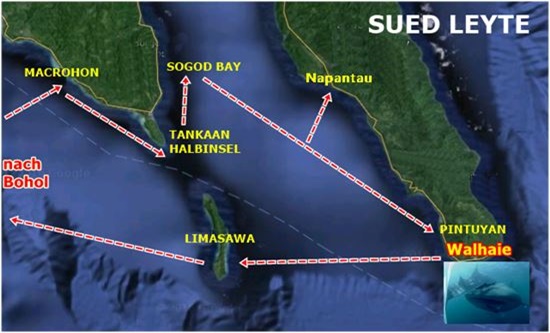 There are always only small groups on our safaris. A maximum of 8 divers are on board the safari ship per dive safari. We want you to enjoy a quiet and relaxed diving holiday during the tour. All tours are inclusive of meals. Except alcoholic beverages are also all drinks included.

The nights are always in quiet areas, so that the boat is quiet. There is always the possibility to go ashore. Our dinghy takes you ashore and picks you up again. So you can explore the beautiful dive sites and the country. It's worth it as we are always away from mass tourism.
Take the opportunity to extend your holiday with a week-long or extended-week safari. We will make you a complete offer and organize all transfers.
The Visaya Safari starts either from Alona Beach on Panglao / Island Bohol, or from Dauin on the island Negros. Watch out for the safari dates on the ADDITION.

Start Alona Beach - End Dauin
Start Dauin - End Alona Beach